Not many people have what you have
the courage
to take action on a dream
::
the daring
with grit, gumption and a whole lotta tenacity
to build your thing
As both a business coach &
fellow

solopreneur,
I know two things for sure…

1.
You've Got This
that grit, gumption and tenacity part
and
2.
the SOLO part of Solopreneurship…

is hard
Between the plethora of tech you have to learn,
all the gurus — wielding their should dos — leaving you con-fused,
the raw vulnerability it is to actually launch your thing… out loud & online,
and the sneaky way solitude & second-guesses leave you both creatively stifled and emotionally overwhelmed…
It can be a lot to hold on your own.
I say that NOT as a 'pain point' marketing ploy
not how I roll
::
I say it because I

know

it first hand
::
Before starting my own business, I'd co-founded a small start-up in Silicon Valley.
We were a team. The experience was a roller coaster for sure, but we rode it together.
We created, commiserated & celebrated… together.
When I went out on my own that experience equipped me with so many tools — but that solo part? That threw me for a loop.
so I went on a quest…
And after multiple masterminds, quite a few memberships, a variety of group programs and still not finding
what I, as a…
sensitive, introvert, highly driven, intuitive entrepreneur
who didn't fit the molds, structures & should dos being put forth
by the established online biz-building gurus
was looking for,
created the BOP Collective.
If you're tired of going it alone in your business,
are ready to have the unwavering support of a group of women who GET what you're up to,
(and want your business coach by your side, while doing it),
then the BOP Collective is waiting (with arms wide open) and we can't wait to work & play with you!
The BOP Collective is a 
group membership for women solopreneurs with a focus on discovering, defining and owning what you truly want your business to be…
and making it happen.
A place to fully honor + bring into your business the intuitive, sensitive and creative multi-passionate woman that is you.
A safe environment to be vulnerable, raw, gritty and real as you bravely forge your own path.
A place of like-minded women who understand the unique balance of giving and serving — for yourself, your family and your tribe.
A tactical, soulful & fiercely supportive community that will gently, but firmly challenge and motivate you to your next level as you build Your Business YOUR WAY.
There are tons of "Just do as I do!" gurus out there, Hélène is not one of those. She is a "Do what you do!" guru, guiding you toward branding + building your business through your passion, your voice, your method, your value and your heart. She's killer!
If you're struggling to find your place in the business world and nothing has felt just right, then the BOP Collective is the place for you.
Lisa Starbard
What I love most about working with Hélène are her very thoughtful responses, her ability to read between the lines and ask great questions to allow me to further refine what I am working on.
Hélène really seeks to understand each person in the group, and their businesses, and she has created an incredibly supportive group in The BOP Collective.
Lora Frost
what's included with membership
TEST & PIVOT Immersive
A (periodic) 5-day virtual workshop, where we'll roll up our sleeves on all things T&P: hash through past tests, answer any questions regarding materials, strategies for pivots, brainstorming & planning upcoming tests.
::
Biz True North reCalibration
As evolving beings with evolving businesses (who TEST & PIVOT), it's imperative to take the time to re-connect with our visions, our why's — find where we may be out of alignment (in both our lives and businesses), OWN the change we want to make and re(calibrate) accordingly, walking away with clarity & alignment on your what's next.
*Takes place mostly quarterly within the BOP WorkPlayShop (explained in detail below)
::
Ongoing Feedback & Support
The BOP Collective main online community is where friendships are forged, collaborations hatched, roadblocks smashed, and support is given.
Between myself and the collective expertise of the group members, questions simply don't get left unanswered.
 Period.
Stuck? We've got your back. Feeling vulnerable after a launch? We are SO here. Giddy over a major win? We'll be there with some celebratory foot stompin' HUZZAHs!
::
Your Coach in your Back Pocket
I'm highly active within the group, care deeply about you & your business, and am fiercely devoted to ensuring your forward momentum.
If you're in need… I'm there.
::
Monthly Office Hour
A combination Q&A and Hotseat Coaching session. The conversations vary widely and on any given call we might find ourselves brainstorming offerings, diving into tech & platform questions, talking straight up strategy, or experiencing a deeply powerful coaching moment.
Optional Sub-Groups (at no additional cost) that meet separate from the main online community for a very focused and singular event and/or purpose. Open to join at anytime while a member.
::
the BOP WorkPlayShop
*Meeting (mostly) monthly
Think Interactive Virtual Co-Working Space… for 2 consecutive days we'll come together in a collaborative, creative & playful manner.

As an introvert & highly sensitive person, I know that the day-to-day 'busy-ness' of an online forum community can be overwhelming for some. The BOP WorkPlayShop offers the opportunity to have time with me (I'll be fully present for those 2 days) and a focused experience within the community to work, play, give & receive support.
Each time we gather will be a little different — with some 'happenings' pre-planned, and others unfolding in an impromptu manner based on the pulse of the group.
Some of the things that could happen…
themed workshops (like True North reCalibration)
work jams (get stuff done, together)
impromptu group video conferences/calls
possible private Skype (short laser coaching) session with me
working through portions of any of the bonus trainings
creative playtime breaks
feedback & collaboration
guest workshops
sleeves rolled-up brainstorming sessions
social hour (raising a glass of your fav. beverage)
Working. Playing. Laughing… sisterhood.
A few additional notes…
The group 'meets' in a separate Facebook Group from the main community and will only be active during the 2 days we come together (otherwise completely dormant).

Workshops, impromptu work related calls and any other 'timed' and gathered events (that can be recorded),

will be

recorded and archived for those who can't participate live.
::
Sprint Week
*Meeting (mostly) monthly
A 5-day get 'er done accountability blast that's fun, focused and momentum filled. You can choose to blaze through a singular project from start to finish — or it can be as simple as a blog post — WHAT you choose doesn't matter — it's in the coming together with focused intention and playful energy where the magic occurs.
available immediately upon signing up
Bonus Materials
Your Biz YOUR WAY (value $180)
The soulful discovery, claiming and OWNING of what you truly want to be doing in your business.
TEST & PIVOT (value $180)
The tactical HOW TO of taking what you want your biz to be and making it happen.
BOP your OPT-IN (value $90)
How to captivate, connect & convert your PERFECT FIT people by creating a brand aligned, Signature Opt-In.
The BOP AUDIT (value $180)
A deep dive into setting your Biz TRUE NORTH and then a methodical walk-thru of auditing each part of your business to see if it's in alignment (and tweaking if not).
CATAPULT your BRAND (value $360)
A tactical and soulful deep dive into discovering your brand story, your brand voice and then HOW to bring that into your copy, into your website and customer experience.
Enrollment is currently full.
Please add your name to the invitation list to be notified when it opens up.
Finding Hélène and joining The Collective almost a year ago has made The. Biggest. Difference.
Not only have I made giant leaps in refining my business ideas but I have met the most amazing group of supportive women from all over the world who are so generous with their wisdom and friendship.
I love it here and can't imagine where I would be without it. Other groups I've been a part of have fallen by the wayside… Secret Weapon indeed! Thank you Hélène.
Mel Morris Jones
I can't recall how I first came across Hélène, but it was so refreshing, having become disillusioned with the marketing coaching within my industry, and how it's intended to hit people at their pain points when they're possibly already at their lowest ebb. It never chimed with me.
I love the support and on-hand advice (if you ask for it) in the group, and the confidence it gives me to be able to build my business on my terms and show up as me (yay!) in my work.
Thanks, Hélène & the Collective.
Wendy Goldthorp
a few more things…
The BOP Collective is for women entrepreneurs
Intuitive multi-passionate women who feel things deeply (and see things a little differently)
The Dreamers. The Healers. The Creatives.
::
It's not a course
Although there are trainings and workshops with support materials, the focus is on having a community & resource you can count on as you, and your business grow.
A place to ask questions that GET ANSWERED.
A place that will ensure your forward momentum rather than the common reality of feeling stuck (with no one to talk to) while building your online business as a solopreneur.
::
My coaching is around
business & brand alignment
(as well as mindset, testing & pivoting, customer experience, and authentic tribe building)
Prepare for lots of questions back to you so you can learn to build YOUR business on YOUR TERMS — one that's TOTALLY aligned with YOU as your business grows and evolves.
Within the Collective you can expect fierce yet compassionate nudges on identifying what you truly want your business (+ life) to be… and making it happen.
FAQ
What if I haven't launched my business yet?
The Collective is for women at the very beginning of their big idea, with no website, no marketing but a knowing, a vision on what they want it to be…
and
For women who've launched their website and a service/offering or two and are still testing and pivoting their way to their sweet spot
and
Women who've been in the online space for a few years and love having the support of like minded women for the continued journey
There's a lot going on... what if I can't participate in it all?
I hate cookie cutter options, and I hate being put in a labeled box.
We are all different with different needs at different times.
Rather than having a strict "this is how you must participate" in the Collective, I ere on the side of…
Hello my fellow highly creative and multi-passionate one.
For you I offer a buffet of choices to have along your biz building adventures because I know and fully honor that at any given time your needs and desires will change. That you are an intuitive, soulful being who is curious, always evolving and most definitely does not belong in a box!
and so…
The BOP Collective is meant as a resource to support you in whatever way is best for you alongside (and in harmony with), your day-to-day business (and personal) life.
Which means there's a natural ebb and flow to not only when you participate, but how.
You may find yourself participating within the FB group a lot for a spell, then for a few weeks (or month) not so much.
You may only ever join us for the WorkPlayShop 2 day gatherings.
You may be active in the main Facebook threads, but never make a live call.
You may prefer to combine the DIY courses and only ever showing up on calls.
Or perhaps it's Sprint Week that supports you best.
Yes, within the Collective you'll find a veritable buffet of options and with it, a variety of ways to take advantage that best suits you.
There's absolutely no expectation, and no 'right-way on how you participate.
It's all about what feels right for you and your biz, on any given day.
Which means the BOP Collective (and I, as your fiercely devoted biz alignment coach) are here for you as you and your business, evolve.
How does payment work?
Your membership is on a recurring billing system through Paypal.
Which means it will automatically renew your membership (at the same price you originally paid) every 30 days, or 3 months depending on what you chose.
Note that you don't need a Paypal account — it will take credit cards as well.
Can I cancel anytime?
You can cancel at anytime, but because of all that's offered right upon signing up, I don't offer refunds.
Hélène Scott has an uncanny ability to bring super-focused powerful support for my process all while providing a gentle and understanding hold.
When I am overwhelmed by what I'm wanting to build in my business and the" hows" of making it happen in an online world I don't have fully figured out, Hélène somehow hears through all of my confusion and together we find practical steps I can take right now while keeping an eye to my overall vision and direction.
Her process is quick, efficient and meaningful. She is a gem!
Suzanne Wigginton
Hélène is a breath of fresh air in a crowded space of online business experts.
Working with her has shown me that showing up authentically in every aspect of my business is key to working with those I want to serve.
Hélène provides a much needed voice for women entrepreneurs everywhere. Her honesty and passion are role models for us all.
Liz Applegate
Trying to see what sticks & getting bombarded by draining emails, I was paralyzed trying to create MY business THEIR way.
Then I found you Hélène, and the Collective: I found my people!!
The collective gave me the confidence/support I needed to begin to create a biz that's me!
because the business is ME!
Moira Kirk Cleary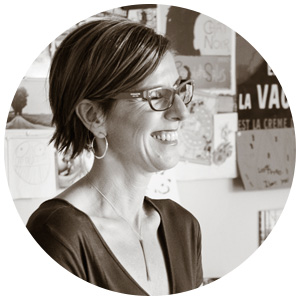 I was a designer, brand/creative director and start-up co-founder for years within the start-up world… but it wasn't till I went out on my own, that I experienced first hand the doubt that plagues you when building a solo business online.
Those second guesses can be downright tormenting, and the onslaught of conflicting decrees from the marketing and online biz building space…confusing at best.
After the first year I found that I'd built a business that was close to my vision, but not quite…something was off.
My why was solid, my branding on point — but my business structure and marketing strategies where a hodgepodge of formulas, blueprints + how-to's handed down by industry gurus, mixed in with a heavy dose of self-imposed limiting beliefs on what I "should do" vs. what I WANTED to do.
My business simply wasn't in alignment with ME.
The all caps ME.
The truest expression of who I am and want to be in the world.
And so began the journey of shedding the shoulds that surrounded me, forging my own path & trusting my intuition.
The result?
A business that's growing, stumbling and evolving, right alongside, the all caps — ME.
One that consistently attracts the very people I most want to work, serve & play with, because I create offerings, brand + market from that alignment.
One that FUELS my soul, because I'm doing it my way on my terms
And THAT is what I catalyze, champion and with fierce compassion support you (daily) in doing as well!
Huzzah!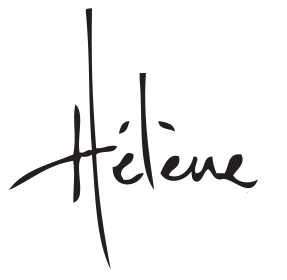 Here's what I love about the BOP Collective:
Hélène is a master of over-delivering. She can pack more value into 15 minutes than I thought was possible. I'm really glad she records our conversations because I can't process fast enough!
Hélène is authentic and transparent. I've learned so much from just observing her run her business.
Bonus: When you're in the Collective you also get access to a bunch of other brilliant women.
With The Collective in my back pocket, I continue to surrender to my business journey. I'm staying grounded and taking action despite my imperfections.
I'm pretty sure I'm gonna come out dancing on the other side.
Nicole Marietta Bonsol
There are people who think creatively. And there are people who think strategically. Then there's Hélène.
Hélène is a trailblazer who's just as adept at adding fuel to the creative fire as she is at thinking outside the box to help entrepreneurs solve complex strategic brand & biz problems. I gained so much clarity behind my work and was able to connect to a network of people I never before knew existed within the BOP Collective.
Hélène is masterful in her ability to build a community and lead people to help them become authentically true. I can't thank Hélène enough for being such a caring leader.
Tündi Szász
If you are a woman dedicated to personal growth and transformation then the BOP Collective is for you. It's a creative hub providing a solution to the isolation we all know.
You will be inspired and engaged in a community supporting you through launches and pivots just as an ensemble workshops their way to Broadway. Hélène teaches through the power of observation: meaning you will be learning by observing her in action within her own business. She continually raises the bar with her generous offerings allowing you to figure out your next steps.
Barbara Coon
Hélène is brilliant at what she does. She's able to laser focus in on what your brand & business is about and see things with fresh, experienced and expert eyes.
What I love most about working with her is how I'm guided to really think about my own true vision as I build my business.
Her advice is always totally individual. I feel like she just gets me. She comes from a place of genuine integrity and honest transparency with a fun splash of humor. If you're tired of marketing hype you'll love working with Hélène.
Nancy Elena Karp
Access to Hélène Scott's beautiful brain should be priceless, but luckily for us mere mortals, it is quite accessible (financially speaking).
As for the woman behind the brand? She is personable, professional and unafraid to push you to do your best work.
Yuliya Patsay
There's something very special about the BOP Collective. First and foremost, Hélène. She's quick, passionate, authentic, candid and most of all, she is there for you.
When she says the BOP Collective is having her in your back pocket, she means it. And I find having her in my back pocket quite simply invaluable.
What's more, Hélène has attracted an amazing group of women to the Collective, such that it is a place that feels like home and yet where I can get business-related questions answered with heart.
Veronica Lim